Welcome to Saucy Saturdays, a link party for recipes and crafts. This joint is jumpin'. Join the fun.
If you're new to this link party, please follow your hosts:

Saucy Saturdays Features
Meg over at Pinch of Nutmeg busted out this Fig and Arugula salad with Honey Lemon Dressing that captured my heart for a few reasons. First, I'm waaay into salads. Second, this year I can say I truly acknowledged, understood and embraced the beauty of fresh figs. What I've been doing without them my whole life is beyond me. And third, I'm loving homemade salad dressings these days and this one sounds great.
Amanda from The Chunky Chef brought over these Carmelized Onion Beef Sliders which, once I was done drooling over them, prompted me to wonder what makes a slider a slider? Is it just its size? Well, a quick Google search reveals this is a hotly contested and debated subject. I'm not going to go into it here but you can read some very strong opinion pieces here at Serious Eats, Chowhound, and Burger Days. They are passionate but not without a sense of humor. Well worth a peek and a giggle.

Pam from Sidewalk Shoes contributed this Roasted Cauliflower and Bread Salad. Pam is pretty well-known in these parts for serving up delicious food and shamelessly seductive cocktails. So I should have been prepared. I should have had a small bib (or at least a napkin) at the ready when I visited her site last Saturday. But those olives…they caught me completely off guard. It was Pavlov's dogs all. over. the. place.

The Not So Creative Cook served up these beautiful Dark Chocolate Strawberry Shortbread Cookies which inspired me, once again, to challenge my Fear-of-Baking. Now that we're headed into cooler temperatures I need to put my big-girl baking pants on once again and get brave in the kitchen. It's so rewarding. When it's not deflating. Further incentive was added when, seeing the pic above from across the living room, my 7yo daughter crooned "piiiiiinnnnnnn thaaaaaaattttt! piiiiinnnnn thaaaat for desssssserrrrrtttt!!!" Nothing gets past that girl.
And, finally, Jennifer Meyering introduced us to this Cake Batter Protein Smoothie. Which is another dessert on the healthier side of things. But, frankly, one look at this beauty and I'm not caring one bit whether or not it's healthy. Sweet. Cool. Creamy. Check. The rest? Whatevs.
---
OK, if you're still conscious after all that deliciousness, let's get linking!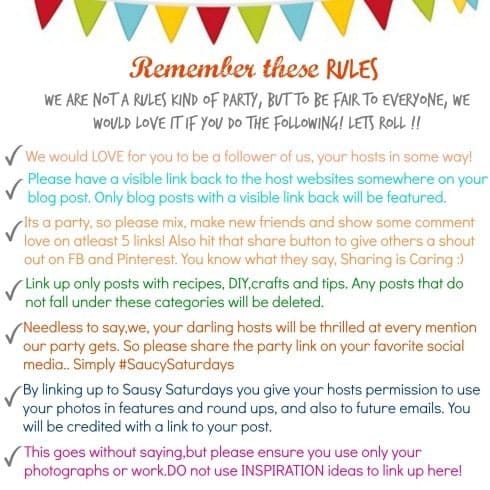 OK! Now grab the badge below for your sidebar and add your awesomeness to #SaucySaturdays!
Now it's your turn. Share your sauciness below!
Loading InLinkz ...