Welcome to Saucy Saturdays, a link party for recipes and crafts. This joint is jumpin'. Join the fun.
If you're new to this link party, please follow your hosts:

Saucy Saturdays Features
These Fried Ravioli from The Chunky Chef can only be described as sinful. Look at that crispy coating! Of course I'm talking about the good kind of sinning. Like you're enjoying it so much you can't believe it's actually legal. This is the kind of dish that would start a feeding frenzy in my house. It's a good thing the recipe calls for 30 ravioli. Any fewer and there could be riots.
This enchilada sauce from A Pinch of Nutmeg has cocoa in it! Iknowright??? I'll give you a second to just take that in. Meg makes a great case for making cocoa powder a staple in your spice rack right alongside the coriander and the cumin. We Americans can be a little puritanical about our chocolate, don't you think? Let's change that up.
Diane from Homemade Food Junkie hit another one out of the park this week with her Peach Pepper Tart. I would never think to put those two things together but I'm so glad Diane did!! And then, just to improve upon perfection, she hits it with a dollop of mascarpone cream. I'm almost hyperventilating just thinking about it.
I've heard and read that baking madeleines is a bit of a tricky endeavor. But Meredith at Weekday Gourmet makes it look so easy with these Lemon Glazed Madeleines. And it must be so for her because on her About page she says baking actually relieves her stress. Some people are naturally talented bakers. And others (like me) are just hoping to get a little better at it. That said, I do love eating baked goods and madeleines in particular. She really put me over the moon with the lemon glaze. Such a great touch.
And finally Jenny B shared her recipe and tutorial from Craftaholics Anonymous for making Chocolate Cupcakes and Blueberry Buttercream Frosting. I drooled all over these in my two-part comment on the post and I hate to repeat myself but I will anyway. First of all, why isn't chocolate and blueberry a more common flavor combo? And by "more common" I'm really asking "why isn't this flavor combination happening in my mouth every night??" And second of all, this recipe yields more blueberry juice than you'll use in the frosting. Which means there's leftover blueberry juice. Can you even stop imagining the possibilites for that?!?
---
OK, if you're still conscious after all that deliciousness, let's get linking!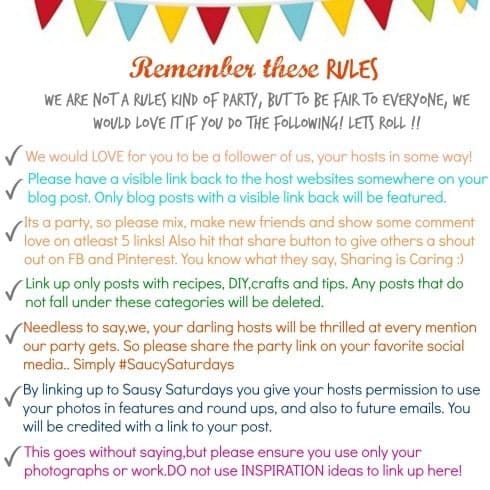 OK! Now grab the badge below for your sidebar and add your awesomeness to #SaucySaturdays!
Now it's your turn. Share your sauciness below!
Loading InLinkz ...