We're bursting with creativity here at Saucy Saturdays. Join the fun.
Before I get to our Saucy Saturdays features I'd like to share a little bit about my trip to the Netherlands. We stayed in a beautiful apartment in The Jordaan section of Amsterdam that my husband found through Air B&B.
When we were telling people we were heading to Amsterdam on vacation almost everyone paused for a moment then queried "What are you going to do there?" My answer?
"Walk around and eat." And that's exactly what we did.
Amsterdam is so ooooold that anything built in the 1800s seems recent!
I had to resist my urge to straighten these pictures.  All the buildings in Amsterdam lean forward or to the side. But not from age. They were built like that to reduce the chances of heavy packages on their way to the top floor (via those hooks) knocking into the façade of the building.
Unfortunately for me, we did not walk as much as we ate. Or drank. I'm happy to say I tried all of the dishes in my Let's Go Dutch post! While I appreciated the Haringsalade, I must admit it's a taste I've not yet acquired. The rest of them were inarguably delicious. The dutch appeltaart I devoured at Winkle (twice!) was a real favorite so I'm looking forward to trying Magda's recipe!
Amsterdam is such an international city we also enjoyed some of the best tapas we've ever had at La Oliva , authentic Italian cuisine at Donna Sofia, various flavors of gelato made on site at Monte Pelmo and nothing-short-of-perfect macarons at Urban Cacao. Added bonus: a great wine bar called Di Vino that has some killer cheeses in addition to its impressive wine list. We freely indulged in both.
Now we're home in Brooklyn and my clothes are tugging in all the wrong places so I've officially launched
* Operation Reverse the Amsterdamage *
It's a high priority mission so I've set myself up for success with this Roasted Sun Gold Vinaigrette.
**Please note: this won't stop me from gawking at any luscious desserts linked below**
But before I switch gears, here are some windmills. Because THENETHERLANDS.

---
Now let's get down to #SaucySaturdays bizness!!
Please follow your #SaucySaturdays hosts:

Saucy Saturdays Features
This DIY cupcake liner wreath from Dandelion Patina won my romantic, girly, crafty heart. I've been looking for something to brighten up the front door to my apartment and this is it! I'm really looking forward to making one with my daughter. Please visit the original post to see all her beautiful photographs of this inspired craft.
Bobbi from Bam's Kitchen shared this Chinese Chicken Salad with Goji Berry Dressing. I love it for many reasons. A) It's a salad…so I can eat it and stick to Operation Reverse the Amsterdamage. B) It enlightened me (finally) on the fine art of poaching chicken and how it could actually be quite tasty. C) Bobbi's got mad chopping skillz. Check out her carrots!
I'm nine kinds of in love with this Porchetta from Caroline's Cooking. Look at that gold, crispy fat! Plus it's got fennel in it.  Caroline uses both pork belly and tenderloin in this which I find very intriguing. I can't wait to try it on a cool Fall day. And now I'm imagining how wonderful the apartment will smell. Yay!
I happened to read about Diane from Homemade Food Junkie's Herb Roasted Chicken on an unusually cool and rainy day and thought to myself, "What could be more perfect for dinner tonight?" And my self had no answer to that question so I went out, bought a (much smaller) chicken and made it with whatever I had on hand! It was so good and easy. And then a small miracle occurred. I remembered to save the carcass for a chicken stock!
Jane from Little Sugarsnaps brought over these delectable little Custard Cream Biscuits and I've pledged to myself to make these with my daughter. I love all of Jane's photos and, in particular, the whimsy she captures in this one. These – I'm sorry…I have to call them cookies or I'll feel pretentious – cookies have buttercream AND jam in the middle. I can't wait to try them (after I take off a pound or so. Something to look forward to!)
We all know about my penchant for bread-free starters, right? Chrisy from Homemade Hooplah shared these Peach Caprese Appetizers and I just want to kiss them. Right before I gobble them up. They're so pretty. The balsamic glaze excites me even further.
---
OK Let's Get Linking!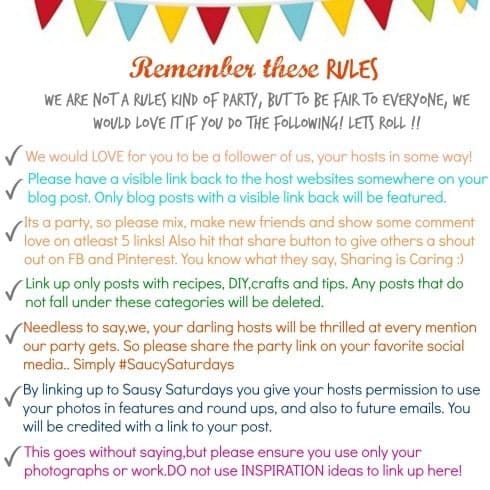 OK! Now grab the badge below for your sidebar and add your awesomeness to #SaucySaturdays!
Now it's your turn. Share your sauciness below!
Loading InLinkz ...