I'm baaaaaack and so are Saucy Saturdays.
If you take your deliciousness seriously you are in the right place.
The Netherlands was exquisite. The people. The food. The architecture. I can't wait to share some of my photos and experiences with you. But, right now? It's party time.
Do you know your #SaucySaturdays hosts, yet?
We do ask that you follow us on all our social media channels.
Before we get linking I have some major props to give out to our features from last week!
Anjana from Happy and Harried got my culinary wheels turning with this recipe for Iced Tea with Peach Simple Syrup. Simple. Refreshing. Kid-friendly. And since the syrup is separate you can make your tea as sweet (or not) as you like. And because my mind is…well…mine…it starts wandering toward the cocktail possibilities….you can bet your bottom dollar I'll be getting peaches at our farmer's market tomorrow. Which isn't far from our liquor store…
Naina from Spice in the City hit another one out of the ball park with these Chicken Tikka Masala Pot Pies. This inventive recipe is, in itself, enough but she extra won my heart with her story about her business school professor and this comment about the Economic Times "Oh, how I hated that pretentious pink tome of a newspaper at times." True to form, Naina's recipe is completely unpretentious so don't be intimidated by it's beauty. A basic American kitchen can whip this up in no time and look pretty darn awesome for doing so.
Michelle from A Dish of Daily Life brought over these Roasted Tomatoes with Cilantro and I almost passed out. I've never slow roasted tomatoes before but if mine come out anything like hers I will be roasting them plenty this fall. And winter. And well into the spring. Add cilantro to the mix and I'm hooked. These seem like the perfect food to me.
Brian from Krumpli served up these Sticky Chicken Drumsticks and had us all positively drooling. My dad used to haaaaate it when I licked my fingers at the table (or anywhere, really.) But I firmly believe that, in some cases, it is actually BAD manners to waste all that sticky, savory sauce by wiping it on a napkin. Hellooo! Napkin's don't have taste buds! With these particular drumsticks, if I could find a way to eat the bone, I most definitely would. But maybe not in front of my dad.
Go ahead. Lick your screen. I'll wait.
These Red Velvet Cookie Dough Bars from Chrisy at Homemade Hooplah have pretty much short circuited my brain. I honestly have no idea how I'm going to take off the couple of pounds I gained in Amsterdam if you people keep putting things like this in front of my extremely impressionable eyes. And to add insult to injury, they're easy to make! *waves the white flag*
I love these little guys. These Minion Cupcakes from Julie at Hostess at Heart could not be any cuter. Julie made these with her young neighbors for their father's birthday. She starts her post by saying how lucky she is to have the neighbors she does. After seeing this, I'm positive they feel the same exact way.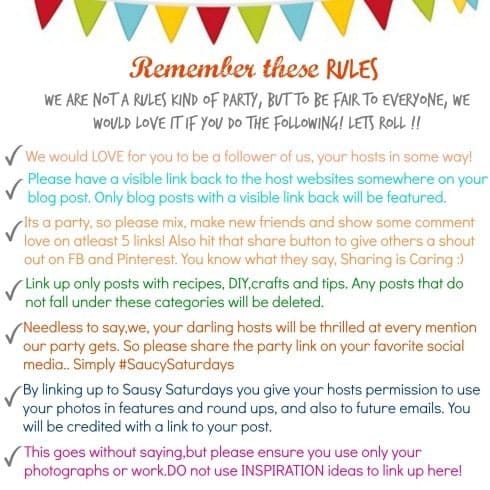 We'll pin all your links to our Saucy Saturdays Pinterest Board. Please follow it!
OK! Now grab the badge below for your sidebar and add your awesomeness to #SaucySaturdays!
Now it's your turn. Share your sauciness below!
Loading InLinkz ...