Saucy Saturdays is a blog hop for recipes, crafts and DIY projects. Whether you want to link one of your own posts or browse to your heart's content you've come to the right place.
If you're new to this blog hop, please follow your hosts:

Saucy Saturdays Features
Jane brought over these Spelt Cheese Scones from Little Sugar Snaps and I must confess my jaw dropped and a little drool spilled out. Savory scones are my kryptonite. But in a good way. I also love experimenting with alternative flours. The kicker though is that herbed butter. Not sure why I never flavor my butter. It's so easy and really elevates whatever you eat it with (even if it's just a spoon.)
Jessica at Dreaming of Leaving had me howling like a werewolf with her round up of the Creepiest Halloween Food Ever. Well…howling and dry heaving. I'm sure it all tastes fantastic but some people…some people must have no gag reflex. If you're planning a Halloween shin dig give this post a visit.
These Pumpkin Pie Snack Bites from Strength and Sunshine made me think I can have all the fall flavors of pumpkin pie with none of the guilt. I'll be testing that theory quite a bit over the next couple of months. I promise to be extremely thorough. And I'll be sure to let you know my findings.
Then came this round up post of 90 Soup Recipes to Kick Off Fall from Our Table of Seven. Ninety! You're going to have to Pin this one and refer back to it all Fall and Winter. I will definitely be rounding out my soup repertoire with this post. Because, right now, my repertoire includes two recipes. For stew. Yummy but I think I can do better.
I love these Peach Muffins with Oatmeal Streusel from Anjana at At the Corner of Happy and Harried. Imagine digging into that fresh fruit in a lovely, cakey muffin topped with that crunchy, oatey streusel. Now imagine it with a cup of coffee. Ooooh heaven.
Sunny Days Pad Thai from Sunny Days Recipes. I can't wait to make this. We are big fans of thai food. Well, at least three of us are and one has promise. I just bought a bunch of new-to-me spices and pastes yesterday and am very excited to up my culinary game by mastering some asian inspired dishes. This pad thai is a delicious place to start.
---
OK, if you're still conscious after all that deliciousness, let's get linking!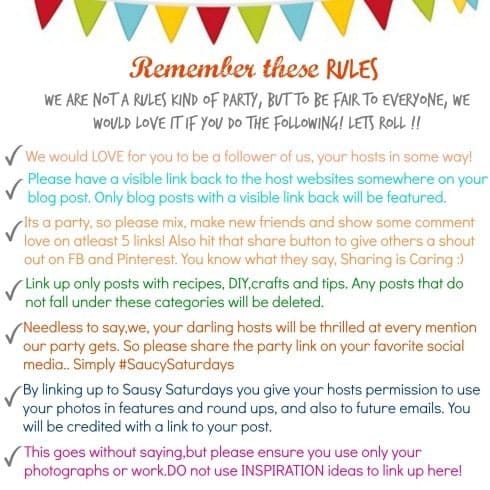 OK! Now grab the badge below for your sidebar and add your awesomeness to #SaucySaturdays!
Now it's your turn. Share your sauciness below!
Loading InLinkz ...