Welcome back to Saucy Saturdays. We've been blown away by the diversity and ingenuity of the recipes you've been sharing with us.
I've been feeling very grateful for the opportunity to co-host this weekly party. It's eye opening (I had no idea toned milk was a thing) entertaining (a TV deal is in some of y'all's futures) and incredibly inspiring (did you see the 90 million things Michelle can do with pesto? And who ever thought to put buffalo chicken into an egg roll?) I'm so excited to see what you have to share today.
First, a quick introduction of the #SaucySaturdays hosts:
We do ask that you follow us on all our social media channels.
And now for last week's features:
We flipped for Jane at Little Sugarsnaps' Espresso, Hazelnut & Nutella Thumbprint Cookies. Given my tendency to personify food, I couldn't stop thinking of these as little ballerinas about to pirouette straight into my heart. Via my belly. I already have a soft spot for thumbprint cookies. Jane takes it to another level. And…spoiler alert…there's a drizzle of white chocolate that happens in the final stages.
I kind of gave this one away up top but I couldn't help it. It's just so inventive. Jenny from Honey & Birch blew my culinary gasket with her Baked Buffalo Chicken Egg Rolls. I love Buffalo Wings. I love Egg Rolls. But would I ever in a million years have thought of putting the two together?!?  And then, they're baked, not fried. Major bonus points.
Then Naina brought out her Zucchini Kofta Curry and I wanted to dive right into it. So many of my favorite spices. I can smell it from here. When she mentioned dipping some naan into that fragrant curry sauce I almost passed out. Plus it's zucchini, which I've been loving lately. And I learned that roasting cumin powder is a thing. I've never roasted or toasted powdered spices. I can just imagine the depth of flavor that adds. Then, there's that beautiful pan that I'll never be able to pronounce. I have a bit of a pan obsession so any recipe that requires a pan I don't already own gets double points from me.
So this little beauty is Caroline's Banana Baked Cheesecake with Peanut Butter Swirls. Look. At. Those. Swirls. I've been intimidated about trying a cheesecake. Although Caroline makes it look so, they aren't all that easy. Plus we have such good cheesecake in Brooklyn I fear my homemade version would always fall short. But Caroline's post really makes me want to try. I'm finding that banana flavor pretty much irresistible.
Michelle struck a chord very close to my heart with her Garlic Scapes Pesto. I was introduced to garlic scapes this season and I'm not quite sure how I'm going to go on without them when they're gone. Michelle's pesto is not only delicious but freezer ready. So, in theory, if I could get my act together…I could have garlic scapes all year long. And so could you! #winning
 *I'm heading out of town so please don't be offended if I don't reply to your comments, tweets, and links until I get back. I will definitely get to them. Thanks for making #SaucySaturdays on of the highlights of my week.*
---
Now, let's get linking!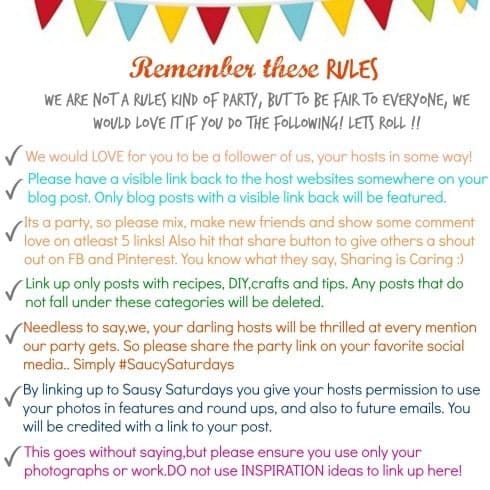 We'll pin all your links to our Saucy Saturdays Pinterest Board. Please follow it!
OK! Now grab the badge below for your sidebar and add your awesomeness to #SaucySaturdays!
Loading InLinkz ...