Welcome back to the second Saucy Saturdays link party. Last week was so much fun. If you weren't able to make it, you can have a gander here.
We'll get to features in a minute, but first
Meet Your Saucy Hosts!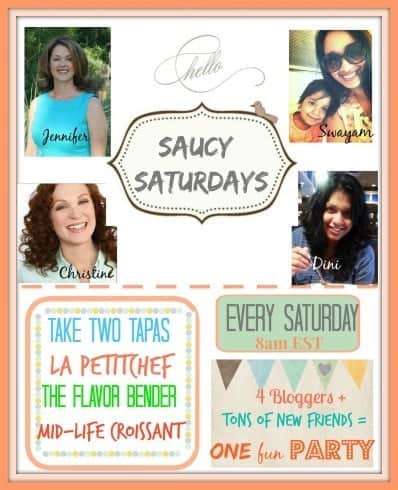 Jennifer from
Follow Jennifer on Social Media
Swayam from
Follow Swayam on Social Media
Dini from
Follow Dini on Social Media
Christine from
Follow Christine on Social Media
---
OK, here are last week's features. Drumroll, please…….
---
We all went gaga over April from Girl Gone Gourmet's Caramel Brownie No Churn Ice Cream. I don't own an ice cream maker because I would be approximately 578 pounds heavier than I am now if I did. You say, "Get some will power." I say, "Why tempt fate?" Sooo recipes like April's cause a little bit of a (delicious) dilemma for me. But it's like, even if I lose, I win. Right? Well done, April!
---
PlatterTalk's Sangria came pretty darn close to quenching my thirst and giving me a little buzz just from looking at the gorgeous pictures. With the temperatures heading North, 'tis the season for a beverage from South of the Border. And this Sangria more than fits the bill. Plus, it's healthy. Cuz FRUIT. Cheers, Dan and Scott!
---
Michelle from Giraffes Can Bake knocked it out of the park with her post on Chocolate and Hazelnut Macarons. It's not just a recipe (which would be plenty!) It's also a tutorial. Which is worth real money to baking novices like me. I bookmarked Michelle's post and plan to take her into the ring kitchen with me when I do battle with make my first attempt at baking these tricky beasts.
---
This BBQ Oolong Tea Smoked Chicken from Bam's Kitchen blows the lid off…well…everything. This is one of my favorite things about blogging. Meeting someone who approaches food so differently than I do that I can't wait to try their recipes and learn from them. There are so many layers of flavors in this dish. It's just exquisite. I can't even resent the fact that it requires a grill and I don't have one. Come hell or high water, I will find one. And when I do, I'm gonna make the sh&% out of this chicken. (Lest you think I'm joking, last week I was so determined to use my parents' grill this happened.)
---
Jenny from Honey & Birch shared her Onion Relish recipe with us and I can't imagine anything more perfect to bring to a summertime BBQ. I love pickles but pickle relish gets a little too sweet for me. I prefer this onion relish. It goes with hot dogs, burgers, chicken…anything you can put on a grill. Or you could just eat it out of the jar by the forkful. Don't hold back because it's so easy you can always make more. It just keeps getting better.
---
So, let's get linking!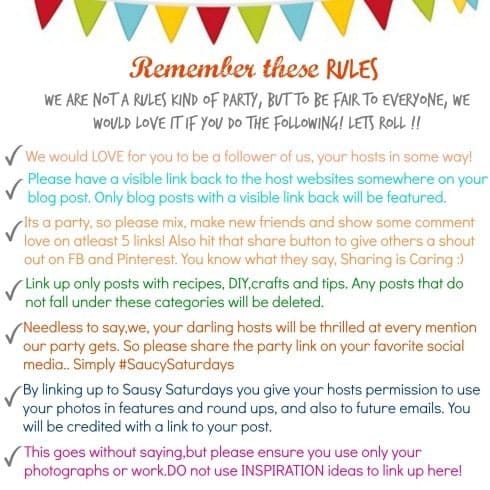 We'll pin all your links to our Saucy Saturdays Pinterest Board. Please follow it!
OK! Now grab the badge below for your sidebar and add your awesomeness to #SaucySaturdays!
Loading InLinkz ...