Saucy Saturdays is a blog hop for recipes, crafts and DIY projects. Whether you want to link one of your own posts or browse to your heart's content you're in the right place.
Did you hear the one about the food blogger who adopted a dog with an extreme mistrust of kitchen appliances?
Seriously, we got an 8 month old puppy last Sunday and she is determined to "protect" me from my coffee grinder, blender, food processor and salad spinner. This is why I didn't get a recipe up on Thursday.
Ha! I just played the "dog ate my blog post" card, didn't I? I have no shame.
Which makes me super fun to party with. Let's get rolling.
If you're new to this blog hop, please follow your hosts:

Saucy Saturdays Features
Looks like 13 is these folks' lucky number! We chose all sweets and treats this week because the holidays will be here before we know it! Also because we have rampant sweet tooths. (Sweet teeth???)
Strawberry Kiwi Granola from Healthy Helper Blog. Speaking of holidays, this would make a really nice gift. Like for a favorite teacher. Or food blogger. This,of course, makes eating granola less healthy but I'm dreaming of this on top of vanilla ice cream.
Salted Caramel Pumpkin Roll from Tournadough Alli. I made a cake log once. It didn't look like Alli's. But I'm not just admiring her baking skillz, I'm also loving the combo of pumpkin and salted caramel.
Apple Cinnamon Honey Cake from Dinner at the Zoo. If you read my apple cake post last week you already know my love for apple cake runs deep. Super deep. I can't wait to try this recipe because I love that the apple is on top and I love the addition of the honey flavor. I'm a big fan of honey. Winnie the Pooh was my favorite for a reason.
Spooky S'mores Favors from A Bride on a Budget. I love Halloween. I wish I had thought to get married on Halloween. How fun would that be! As it is, I got married on September 24, 1999. And, just so you don't have to do math, that means we celebrated our 16th anniversary this past Thursday.
Prize Mahogany Chocolate Cake from Hostess at Heart. Julie shared this cake recipe that is not only mouthwatering but has been in her family for nearly 80 years. I loved reading her thought process when "filling in the blanks" in the recipe she inherited. People who are "natural" bakers amaze me. If I inherited a cake recipe that was even remotely vague in instructions it would just collect dust on my kitchen shelf.
OK, if you're still conscious after all that deliciousness, let's get linking!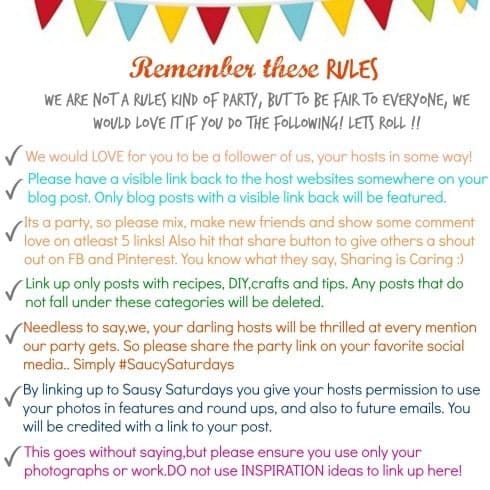 OK! Now grab the badge below for your sidebar and add your awesomeness to #SaucySaturdays!
Now it's your turn. Share your sauciness below!
Loading InLinkz ...